GREEN ENTREPRENEUR
Pamela Millar has also been active social entrepreneur for more than twenty years. In the 1980's, she rode her bicycle across the United States to raise money for Mobility International, an organization which helps people with disabilities travel internationally. Still committed to this cause, Pamela formed the Accessibility initiative at Sun Microsystems, ensuring equal access for people with disabilities to the latest internet technology across the suite of Sun's products.

In the 1990's Pamela co-authored a book of Buddhist spiritual teachings, which is now selling worldwide in 23 languages. Her contacts with readers around the world sensitized her to the living conditions of impoverished communities worldwide. With a rash of natural disasters in many areas of the world in the 1990's, Pamela helped organize numerous flood relief efforts in the USA, Asia, and Latin America. She is also a field reporter for a satellite television station broadcasting environmental education and showcasing social entrepreneurs in more than 40 languages worldwide.

Pamela has spent the past ten years as a passionate advocate for environmental education and the increasing threat of global warming. She has served as consultant for UCLA's Green Technology Institute, the California Nanotechnology Institute, TEKIO and its Green Room project and the Green Valley Initiative of greater Los Angeles. She also has been executive producer of several international climate change conferences, including the SOS International Climate Change Conference in Hollywood in 2007 and the Washington DC International Climate Change Conference in 2009 and The Global Summit in 2010. She wrote ten articles which were published in the journal of the COP-15 climate change conference.

See below for detailed experience with various clean and green projects:
PERU GLOBAL WARMING CONFERENCE: Global Warming: Yes, there is a Solution!

Coordinated all PR and VIP relations for international climate change conference held at the Pentagon in Lima, Peru – including diplomatic meetings with ambassadors and government officials.

o Featured the Peruvian environmental minister as keynote speaker

o Personal visits to foreign embassies in Lima

o Production of televised press conference

o Production of bi-lingual climate change information booklet

Coordination of interpreting services for bi-lingual international live television broadcast
---
WASHINGTON DC CLIMATE CHANGE CONFERENCE (2009)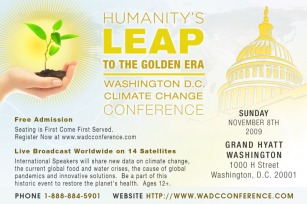 Top IPCC scientists and public health experts in preparation for COP15 climate change Summit.

1. Worldwide Live broadcast with 20 language subtitles
2. Representation from senators and international ambassadors
3. Participation of prominent International NGOs and international embassies
4. Global media attendance
5. Simultaneous interpretation for the deaf
6. Indian environmental Minister's address
7. European parliament member via video address
8. Global press conference with 12 media outlets


---
LET'S ACT NOW ADVOCACY CAMPAIGN (2009)


Mass public advocacy campaign nationwide raising awareness to the connection between diet and climate change.
Wrote, produced and directed 30 seconds television PSA commercial
Managed media submission to 22 national channels in primetime, airing the commercial 318 times
Produced and managed four separate animated display ad campaigns with demographic tracking of results.
Achieved rate of one tenth of one penny per impression and 85 cents per click
---
SOS HOLLYWOOD CLIMATE CHANGE CONFERENCE, 2008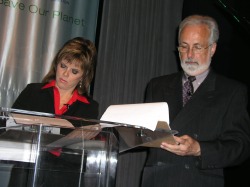 Executive Director of SOS Climate Change International Conference (Hollywood) July 26th, 2008
Ecumenical, cross functional international climate change conference bringing together top university scientists, interfaith leaders and media moguls.
The goal of the conference was to raise public awareness of the connection between dietary choices and the dual crises of food shortages and runaway global warming. The result was that becoming vegetarian/vegan is the single most powerful thing you can make to reduce global warming. Climate experts, animal protection advocates, Hollywood producers and interfaith groups joined together in a one day conference. The event featured:
Live broadcast worldwide on 14 satellite channels with Mayor's address
Speeches from international dignitaries patched in
Subtitled in 22 languages
"green carpets" event with celebrities
See details and footage at
http://www.ecofoodprint.org/events.html
---
GREEN TECHNOLOGY INSTITUTE, LOS ANGELES (2007-2009)


ECOFOODPRINT
---
ECOFOODPRINT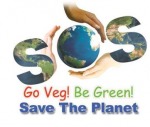 Produced information portal linking animal agriculture to CO2 emission and its impact on climate change
Co-produced global climate change conference
Setup and manage the registration portal for the conference
---
TREE MEDIA, Los Angeles, 2008

Collaborative partnership for media placement for 2 strategic initiatives launching media development for infomercials, custom videos and television programs called Green Towns USA and Spheres of the World.
---
GAIA UNIVERSITY


Consulting & advice on website architecture
Strategic planning for partner alliances
Produced professional audio PR campaign
Mapped social organizing principal
Created marketing & Promotional plan
---
NEW PARADIGM INSTITUTE (2007)
Intensive strategic planning initiative
Map of partner alliances & evaluation protocol
Internal management plan & metrics
Project planning and success metrics
TEKIO (2006)

Bi-lingual environmental educational portal for youth social entrepreneurs
Produced and directed promotional infomercial
Redesigned and authored web portal
Produced promotional materials
Strategic project planning & international launch
Produced event fundraiser
Represented at major international Conferences
- Youth Employment Summit

-
Small & Medium sized business for Mexico City
Met & negotiated with partner organizations.
---